The original Baker Club was formed no doubt in memory of Major Henry Baker
On Wednesday, 2nd March, 1927, twelve members of the Apprentice Boys of Derry met in the Memorial Hall to consider whether or not to revive the Baker Club which had completely lapsed. An apology was received on behalf of the other member.
Bro. Edward McIntyre was appointed Chairman and after discussion it was decided to renew the Charter in connection with the Club. The twelve present together with the absent member, were named as Charter Members, and first offers of the Club were appointed as follows.
President – E. McIntyre

Vice-President – J. Black

Secretary – J. Lapsley

Treasurer – W. Little

Chaplain – W. Caldwell

Assistant Secretary – S. Bolton, Snr

Tyler – R. McIntyre

Committee – H. Hamilton, T. Cabena, C. Kennedy, G. Wylie, W. Kerr and R. Finlay
Further meetings were held on the 14th and 30th of March 1927 during which the bye-laws governing the Club were drafted, finally read and approved. Over the next decade and a half, the Baker Club prospered and a number of branch Clubs were formed throughout Ulster.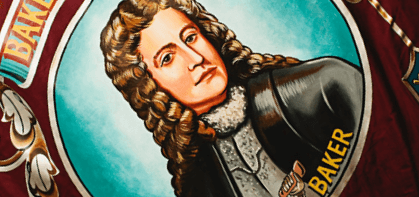 Holywood
Corcreaney
Seaview
Cumbernauld
Aberdeen
Ballyeaston