The Murray Club was founded in 1847; the initiation fee was 1 shilling and monthly dues cost 4 pence
In the early years the Club had several different meeting places until the emergence of the Memorial Hall in 1877. The Club has met here since then.
The Club is named after the siege hero Col. Adam Murray, who led his soldiers with their notable white armbands in many battles, including the Windmill Hill and Pennyburn Mill, where he slew the French General with his own hands.
Col. Murray is buried along side another siege hero, Col. John Mitchelburne, at Old Glendermott to where an annual parade takes place in September for a memorial service, organised jointly with the Mitchelburne Club.
Club members on occasions wear a white arm band, representing the white band of distinction worn by Col. Murray's soldiers during the siege.
At present the Murray Club has a number of branch Clubs in Ulster, the Republic of Ireland, Scotland, England and Canada.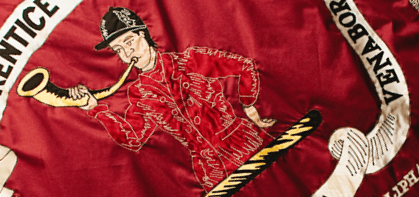 Belfast
Partick
Antrim
Donemana
Eglinton
Upperlands
Aghadowey
Crumlin
Bryansford
Newtownstewart
Manorcunningham
Teemore
Ballywillan
Ballinran
Toronto
Greenock
Liverpool
Thames and Avon
Possil Park
S.A.M.S. Liverpool
Bootle
Birkenhead
Lancashire and Cheshire
Wishaw