The Campsie Club is the youngest of the eight Parent Clubs, having been reformed and presented with a New Charter on the 23rd January, 1950
A Club with this name had been in existence almost 100 years earlier, but ceased to operate in 1869. The Campsie Club is the only Apprentice Boys Club to be named after one of the "Brave 13". It is presumed that Henry Campsie was the first man to shed blood in the Defence of Londonderry.
Campsie was the inspiration behind the Shutting of the Gates, and was severly wounded whilst leading his associates to secure the City Magazine and armoury.
The emblem of the Roaring Meg was adopted as the Seal of the New Club.
The Campsie Club has now an active, energetic core of members and officers, who in the past few years have encouraged the growth of the Association by opening new branches, not only in Ulster, but also in England and Scotland.
Most recently the Campsie Club have opened a new Branch in East Lothian, Scotland, known as the East Lothian Campsie Club.
The Charter for the new Club was installed by the Lieutenant Governor, Bro. Graeme Stenhouse and officers of the Parent Club on 12th September 2015.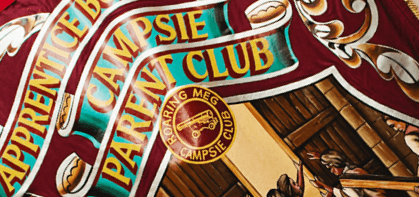 Coatbridge
Belfast
Broadway
Liverpool
Clounagh
City of Edinburgh
City of London
Armagh
Holytown
Stirling
Bendooragh
Wavertree
City of Perth
Glenrothes
Rasharkin
Castlederg
Seven Towers
Dunmurray
Benfleet – Essex
City of Westminster
Shankill Road
Rathcoole
North Belfast
Muckamore
Galston
Inverness
City of Glasgow
Springburn
Manchester and Salford
Royal Burgh of Rutherglen
City of Sheffield
North Ballymena
Edinburgh Covenanters
Leitrim
Brampton
Surrey
Burnside
Cromkill
East Lothian