A living memorial to Captain Browning has been the Browning Club of Apprentice Boys of Derry
The Club was in existence in 1863, but it evidently lapsed, for in an old minute book of the Club, the account of proceedings held in the rooms of Mr. Conway, London Street, on the Wednesday evening, July 26th, 1876 describes that as "the first meeting" of the Club. The second meeting was held in the rooms, Church wall.
The rooms in Church wall were the Clubs chief place of meeting at this time and until the Apprentice Boys Memorial Hall was built in 1877. At the meeting on 2nd September, 1876 it was ordered "that a sheet of parchment be purchased for writing the Charter of this Club on",
At the following meeting on the 16th September, Bro. Edmiston produced the Charter, and arrangements were made to have it framed. At that meeting the President, Bro. James V. Barker, read the new form of Ritual which was adopted.
Evidence that a Browning Club existed before 1876 is found in the minute of a meeting held on the 17th December 1880, and it records that it was stated at that meeting, "that the gun we have now got, belonged to the old Browning Club", and that the gun "had been buried for this past eleven years".
The Club has remained in existence since its revival in 1876 and has taken an active part in the celebrations of the Shutting of the Gates and the Relief of Londonderry ever since.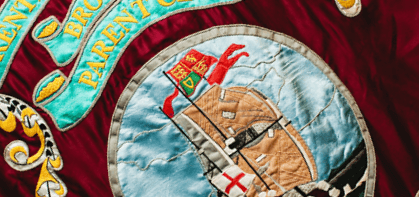 Belfast
Ardstraw
Magherafelt
Bangor
Enniskillen
Aughnacloy
Coleraine
Middletown
Killylea
Loughbrickland
Laurencetown
Bloomfield
Plumbridge
Curragh
Fawney Fort
Woodburn
Cavan
Donaghmore
Shettlestown
Monaghan
Solent and South Downs
Bushmills
Luton and Bedford
Dundonald