Following many years of lobbying, funding was secured to create a permanent museum adjacent to the Apprentice Boys Memorial Hall
The visitor centre delivers the epic and heroic story of the Siege of Londonderry and details the development of the Apprentice Boys Association
In 2013 work began on a new museum and exhibition space beside the hall on Society Street. The extension has enabled the Association to continue to develop their work in promoting understanding of our history and culture.
The new Siege Museum and Exhibition is a permanent display of the history of the Siege of Londonderry and of the Associated Clubs of the Apprentice Boys of Derry, including artefacts, video and interactive media.
Visitors also have the added attraction of being able to view one of the finest collections of meeting rooms used by the 'Loyal Orders', which is housed in the Apprentice Boys Memorial Hall. (Group booking only)
There are separate rooms for each of the orders:
Apprentice Boys of Derry

Orange Order

Women's Orange Order

The Royal Black Institution
The new purpose-built museum and visitor centre officially opened in March 2016.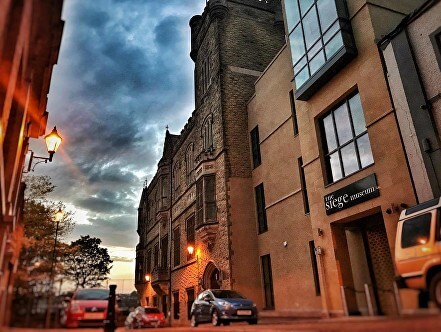 For more information on the Museum, including opening times and bookings, please visit the Siege Museum website.