The Walker Club was formed in 1844 in Londonderry to perpetuate the memory of the Rev. George Walker, who was a great clergyman and soldier
He raised a regiment under Lord Charlemount for the defence of Dungannon, and when Dungannon was abandoned he and his regiment made their way to Derry, to help in the defence of the City. He then became Joint Governor. He fought with King William at the Battle of the Boyne, where he was killed on the 1st day of July, 1690. His remains and that of his wife are laid to rest in Castlecaufield Parish Church.
Bro. John Ferguson, C.E., for many years Governor of the Associated Clubs of Apprentice Boys of Derry and President of the Walker Club, presided at a meeting of the Club on June 4, 1897, and stated that it was the 53rd anniversary of the establishment of the Club. As far as the records show the first recorded President of Walker Club was Bro. John Guy Ferguson, C.E., in the year 1886. Bro. John Guy Ferguson died in January, 1901.
A photograph of the late Bro. Ferguson, Governor, is hung in the Club Room. To him the Walker Club owes a great deal. Had it not been for him the Club might have passed out of existence. His name should always hold a prominent and honoured place in the records of the Club. 
There have been many memorials to the Rev. George Walker, but perhaps the greatest memorial of all to Walker is that of the Walker Club founded in 1844 to perpetuate his name.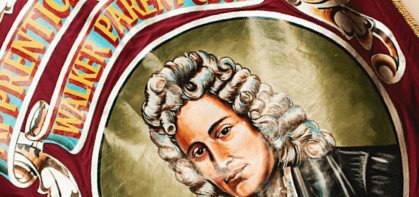 Belfast
Kilrea
Armagh
Castlwdawson
Tobermore
Caledon
Moneymore
Dungannon
Ligoniel
Randalstown
Garvagh
Dunloy
Kinnego
Stewartstown
Greystone
Irvine
Adrossan
Gorestown
Drumnacross
Dalry
Calrercruix and Slamannan
Stevenson and Saltcoats
Maybole
Coagh
Castlecaulfield
Motherwell
Larne
Kilwinning
Ayr
East Ayrshire
Redding & Westquarter